813 homes traded hands in February 2022 in the jurisdiction of the London and St Thomas Association of REALTORS®, only 8 units less than in the second month of 2021, which was LSTAR's best February for home sales ever.
"Even though last month our residential transactions fell short by a few units from reaching a new peak, February 2022 succeeded to set quite a few new records," says Randy Pawlowski, 2022 LSTAR President. "This was the February with the highest number of new listings in the history of LSTAR, but also the one with the lowest housing inventory and the lowermost number of active listings at month-end," he continued.
1,021 new listings came on the market this month, but only 408 were still active as of February 28. The number of inventory months remained at 0.5 - unchanged from the previous month.
"These numbers illustrate perfectly the acute imbalance between the high demand for homes in our area and the severe housing supply shortage we're facing," Pawlowski emphasized. "In such conditions, average prices and benchmark prices can't go anywhere else, but up," he added.
In February, the overall average price for all home types in our area was $825,221, whereas LSTAR's composite MLS® Home Price Index Benchmark Price sat at $749,000.
During the same month, while the Sales-to-New-Listings ratio for LSTAR's entire jurisdiction was a bit lower than in February 2021 - 79.6% last month versus 86.2% in February 2021, the Sale-to-List-Price ratio increased by 9% over the same period, reaching a new record high of 123%.
"These percentages show how firmly anchored our local real estate market is in Sellers' territory and how much the home Buyers are willing to go over the asking price to get in the market," Pawlowski said.
The following table shows how February's average sales prices in LSTAR's five main regions compare to the benchmark prices for the same areas.
| Area | February 2022 MLS® HPI Benchmark Price | February 2022 Average Price |
| --- | --- | --- |
| Central Elgin | $813,400 | $974,715 |
| London East | $651,300 | $645,707 |
| London North | $879,100 | $958,599 |
| London South | $742,200 | $838,023 |
| Middlesex Centre | $1,072,600 | $993,602 |
| St. Thomas | $663,000 | $731,584 |
| Strathroy-Caradoc | $840,600 | $817,870 |
| LSTAR | $749,000 | $825,221 |
The single-family home remains on top of the local home buyers' preferences, followed by condo townhouses and apartments.
"572 single-family homes, 127 condo townhouses, and 75 apartments were sold last month in our area. All these house types saw substantial price gains. In February, the average price for a single-family home in LSTAR's jurisdiction was $904,800, that of a condo - $680,358, and the overall average price for an apartment - $474,322." Pawlowski added.
The following table shows the February benchmark prices for all housing types in LSTAR's jurisdiction and how they stack up against the values from a year ago.
MLS® Home Price Index Benchmark Prices
Benchmark Type
February 2022
Change over February 2021
LSTAR Composite
$749,000
↑ 41.2%
LSTAR Single-Family
$815,600
↑ 38.3%
LSTAR One Storey
$733,500
↑ 42.6%
LSTAR Two Storey
$891,900
↑ 35.2%
LSTAR Townhouse
$594,500
↑ 52.5%
LSTAR Apartment
$400,700
↑ 64.6 %
"The latest increases in the HPI benchmark prices and average sale prices place LSTAR somewhere in the middle of the Canadian home affordability scale," Pawlowski noted. The following chart is based on data provided by the Canadian Real Estate Association (CREA) for February 1st, 2022.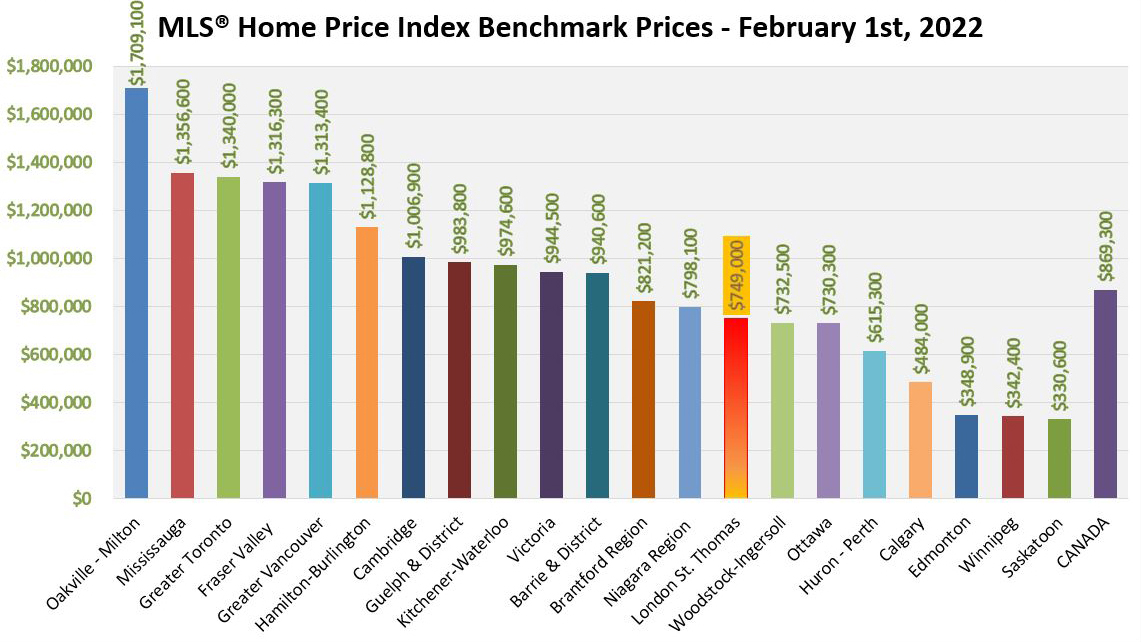 According to a research report[1] by Altus Group, a total of $73,250 in ancillary expenditures is generated by the average housing transaction in Ontario over a period of three years from the date of purchase. "This means that our February home sales could bring almost 60 million to the local economy over the next three years, which demonstrates the important role the real estate industry can play in the economic recovery of our region," Pawlowski concluded.

Posted by Brian VanBart on