1,727 new residential listings and 663 home sales were recorded in June 2022 in the London-St. Thomas area via the MLS® System of the London and St. Thomas Association of REALTORS® (LSTAR). The local housing supply increased from only 1.7 months of inventory in May to 2.8 months of inventory in June.
"While the number of new listings is the highest ever recorded by LSTAR in the month of June, the number of June home sales is at its lowest point in the last ten years," said Randy Pawlowski, 2022 LSTAR President. "Our local market is cooling off rapidly, but home prices don't follow suit as fast," he added.
LSTAR's composite MLS® Home Price Index Benchmark Price was down 7.8% from May, decreasing from $703,300 in May to $648,500 last month. However, this value is still 10.1% greater than the figure recorded in June 2021. Similarly, LSTAR's overall average home price fell from $762,397 in May to $686,287 in June. Compared to the same period last year, this figure is still 8.9% higher.
"While the three consecutive interest rate hikes by the Bank of Canada succeeded to put some downward pressure on the home prices, the low housing supply is what keeps them relatively elevated. Even if the number of months of inventory increased to almost three, this value is still lower than normal. In a balanced market, the inventory should sit at 3.5 or 4 months," Pawlowski said.
The following table shows how June's average home sales prices in LSTAR's main regions compare to the benchmark prices for the same areas.
| Area | June 2022 MLS® HPI Benchmark Price | June 2022 Average Price |
| --- | --- | --- |
| Central Elgin | $637,700 | $616,591 |
| London East | $524,900 | $547,492 |
| London North | $781,700 | $807,984 |
| London South | $644,100 | $696,067 |
| Middlesex Centre | $925,400 | $1,007,905 |
| St. Thomas | $537,300 | $576,680 |
| Strathroy-Caradoc | $794,000 | $657,051 |
| LSTAR | $648,500 | $686,287 |
"The favourite dwelling type of the local home buyers remains the single-family home: out of the 663 units sold last month, 493 were single-family homes," Pawlowski explained. "The rest of the June transactions were comprised of 82 condo sales and 58 apartment sales," he added.
In June, the average price for a single-family home in LSTAR's jurisdiction stood at $736,158, that of a condo – at $583,321, and the overall average price for an apartment – at $413,576.
The following table shows the June benchmark prices for all housing types in LSTAR's jurisdiction and how they stack up against the values from a year ago.
MLS® Home Price Index Benchmark Prices
Benchmark Type
June 2022
Change over June 2021
LSTAR Composite
$648,500
↑ 10.1%
LSTAR Single-Family
$689,000
↑ 9.1%
LSTAR One Storey
$626,900
↑ 9.7%
LSTAR Two Storey
$731,500
↑ 8.9%
LSTAR Townhouse
$575,800
↑ 16.4%
LSTAR Apartment
$425,900
↑ 10.6%
"Even if it's higher than in many cities from other Canadian provinces, LSTAR's composite HPI benchmark price places our area among the most affordable in Ontario," Pawlowski observed. The following chart is based on data provided by the Canadian Real Estate Association (CREA) for June 1st, 2022.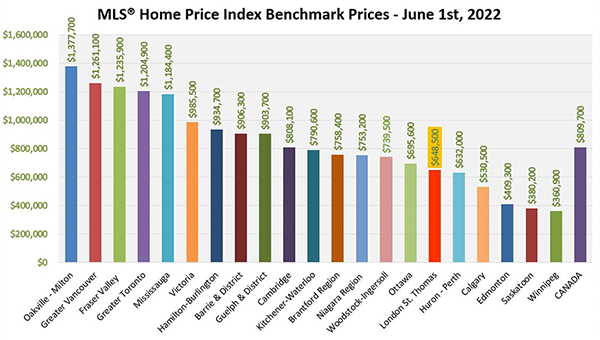 According to a research report[1] by Altus Group, a total of $73,250 in ancillary expenditures is generated by the average housing transaction in Ontario over a period of three years from the date of purchase. "This means that our June home sales could bring over $48 million in spin-off spending to the local economy over the next three years," Pawlowski concluded.

Posted by Brian VanBart on