In October 2022, the MLS® System of the London and St. Thomas Association of REALTORS® (LSTAR) saw 975 new listings and 504 home sales. While October's new listings were on par with the average value recorded for the month of October throughout the last decade, the monthly home sales were at their lowest point in the last ten years.
"This year's successive increases in interest rates put a big dent in the local home sales activity and made the year-over-year price values plunge. However, it's not all bad news: LSTAR's sales-to-new listings ratio increased from 42.4% in September to 51.7% in October, which indicates a more balanced market. Moreover, the overall average home price in the London-St. Thomas region was a bit higher in October than during the previous month, increasing from $635,256 in September to $640,570 last month," said 2022 LSTAR President Randy Pawlowski.
Compared to a year ago, both the average home price and the composite MLS® Home Price Index (HPI) Benchmark Price edged slightly down but remained higher than the figures seen in 2020 and before. LSTAR's overall average home price was $640,570 in October, 4.1% less than a year ago, but 21.7% higher than in October 2020. The composite MLS® HPI Benchmark Price sat last month at $584,200, 2.1% lower than last year, but 26.1% higher than in October 2020.
The following table shows how October's average home prices in LSTAR's main regions compared to the benchmark prices for the same areas.
| Area | October 2022 MLS® HPI Benchmark Price | October 2022 Average Price |
| --- | --- | --- |
| Central Elgin | $589,900 | $774,480 |
| London East | $475,500 | $491,525 |
| London North | $701,300 | $814,524 |
| London South | $577,300 | $593,593 |
| Middlesex Centre | $828,100 | $1,364,559 |
| St. Thomas | $502,000 | $509,198 |
| Strathroy-Caradoc | $700,000 | $609,494 |
| LSTAR | $584,200 | $640,570 |
The single-family home remained at the top of the local home buyers' preferences with 363 homes sold in October, followed by condos, with 73 townhouses exchanging hands.
"Despite having the lowest number of units sold (37), apartments recorded actual gains in both their average and HPI benchmark prices, unlike single-family homes and condos, which saw year-over-year decreases. More specifically, in October, the average price of an apartment in the London-St. Thomas region was $416, 516, 8% higher than in October 2021, while its HPI benchmark price was $398,600, up 2% over the same time a year ago," Pawlowski observed.
The following table shows the October benchmark prices for all housing types in LSTAR's jurisdiction and how they compare with the values from the previous year.
MLS® Home price Index Benchmark Prices

BENCHMARK TYPE
OCTOBER 2022
CHANGE OVER OCTOBER 2021
LSTAR Composite
$584,200
↓5.6%
LSTAR Single-Family
$624,900
↓6.2%
LSTAR One Storey
$559,400
↓6.5%
LSTAR Two Storey
$669,800
↓5.9%
LSTAR Townhouse
$489,400
↓1.4%
LSTAR Apartment
$390,800
↑2.0%
Last month the housing supply remained relatively steady in our area, with 3.2 months of inventory and 1,620 active listings at month's end.
"The numbers of both active listings and inventory months are now at healthier levels, but they're still lower than those seen at the beginning of this decade, which hints that the housing supply issue is still there," Pawlowski explained.
"When compared to other values recorded provincially and nationally, homes in our area continue to remain relatively affordable," Pawlowski said. The following chart shows HPI benchmark prices for October, courtesy of CREA.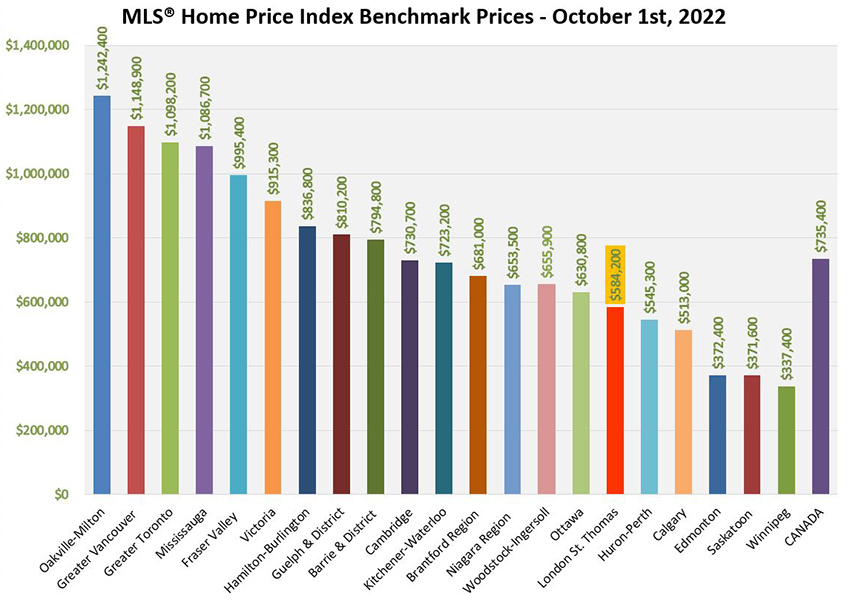 According to a research report1 by Altus Group, a total of $73,250 in ancillary expenditures is generated by the average housing transaction in Ontario over a period of three years from the date of purchase. "That means that LSTAR's October home sales could potentially contribute $37 million in spin-off spending to our local economy over the next three years," Pawlowski said.

"With the local market slowly stabilizing, it's important to have a local REALTOR® in your corner. When it comes to real estate, they can help you make the best decisions, by providing real-time time statistics and professional advice," Pawlowski concluded.

Posted by Brian VanBart on